Reaching Beyond Myself
Tuesday, February 26, 2008
Disney On Ice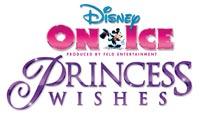 I'm so excited. Probably more than a 33 year woman should be, but we are planning a great "girls day outing" to see this show on ice in Kansas City, Mo the end of March. Adalai and I are going with our good friends, Jen and Emma. Jen is Emma's mommy and Adalai's newest best friend, or "twin" as Adalai would like to tell you.
Just the four girls are driving down to see the Princesses in all their glory.
The best part of it is that my very anti-Disney husband is completely fine with us going. I think this will open up the doorway to allow my daughter the opporutnity to explore their fairy tale stories in all their glory.
Besides I don't know who he thinks he's kidding, because when I showed Adalai the promo video for the ice show on
www.disney.com
she could name every single princess and her prince charming.....lol
She's up on her princess trivia for sure........ :)

Labels: girly stuff
posted by True_Floridian Momma at
11:19 AM